A dependable SUV is the kind of car you want to rely on for years. A classic like the Ford Explorer can provide you with versatile performance and convenient seating and storage for your family.
Getting maintenance is the best way to make sure that your SUV keeps running for a long time. To help drivers in Harrisburg and Carlisle know how when to come back for routine maintenance, Fred Beans Ford of Mechanicsburg put together this Ford Explorer maintenance schedule.
Every 7,500 to 10,000 Miles
The 2018 Ford Explorer has an Intelligent Oil-Life Monitor that will let you know when the oil levels are low. This is usually somewhere between 7,500 and 10,000 miles.
After your first oil change it's recommended that you never go longer than one year or 10,000 miles between your routine maintenance appointments and oil changes.
Every time you go in for an oil change, service technicians will also change your oil filter, as well as take care of other maintenance like rotate your tires.
After that, you'll get a multi-point inspection that will check your levels and systems like:
    
Transmission fluid level
    
Brake pads, rotors, and lines
    
Engine cooling system
    
Exhaust system and heat shields
    
Suspension, ball joints, and driveshaft
Every 20,000 Miles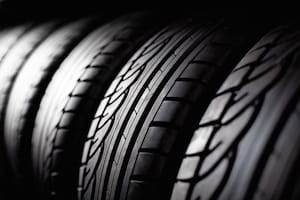 When you come back in after passing 20,000 miles, you'll get the same inspections and oil changes as your last visit. Only this time you'll need to have your cabin air filter replaced too.
Every 30,000 Miles
During your next maintenance appointment, you'll get an oil change, new oil filter, and inspection again. At 30,000 miles though, technicians will also replace your engine air filter.
Every 50,000 Miles
The 50,000-mile marker is a big one. Your Ford Explorer is half way to the century mark. Not much more needs to be done on this maintenance visit, but it is an important one.
Service technicians will replace your brake fluid level. You can be confident in your stopping power after getting new fluid and having your regular brake pad and brake lines inspection.
Every 100,000 Miles
Congratulations! 100,000 is a huge milestone for your Ford Explorer. Now let's keep it in top shape for another 100,000.
You'll get the works on this maintenance trip. Technicians will give it a multi-point inspection, check every part of your brake system, including changing your brake fluid again. Other fluids that will get replaced on this trip include your routine oil change and your coolant.
In addition to all the usual system checks, your accessory drive belt will be inspected, and your spark plugs will be replaced.
Every 120,000 Miles
Once you pass 100,000 miles, your accessory drive belt will have to be inspected every 20,000 miles.
While you're back we'll also give you a new cabin air filter and engine air filter, plus your usual oil change and inspection.
Every 150,000 miles
After getting it looked at on your last few visits, your accessory drive belt should be replaced once you hit 150,000 miles.
All your fluids will get looked at too from automatic transmission to brake fluid coolant. The engine air filter is also due to be replaced again.
Ford Service Center
Fred Beans Ford of Mechanicsburg is proud to offer excellent service to drivers in Harrisburg and Carlisle. We are an AAA approved repair facility with a staff of factory-trained ASE-certified technicians, so you know your Ford Explorer will be in good hands.
Our team exclusively uses genuine parts and accessories made just for your Ford, so you'll get longer lasting and better performance out of them.
Contact us to learn more about this Ford Explorer maintenance schedule, or schedule you next appointment online.