Regular oil changes are an important part of vehicle maintenance. Having the oil changed every few months will help your engine perform at its best and keep your vehicle running like new. In this article, our team at Fred Beans Ford of Mechanicsburg will help drivers from across the Mechanicsburg and Harrisburg areas learn more about oil changes and our oil change services. Keep reading to learn more.
When to Get an Oil Change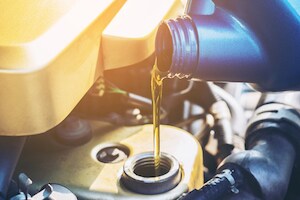 When you get your oil changed at a service center or repair shop, they'll usually put a sticker in the top left corner of your windshield designating the next time you should have the oil changed. The sticker includes two numbers: a mileage and a date. However, some drivers may find this confusing about what to do when they reach the date on the sticker before the mileage or the other way around.
Truth be told, both numbers are important to consider. If you reach the mileage amount on the sticker, then your oil has been working hard and is likely beginning to break down. You'll need to replace it with fresh oil to keep your engine running smoothly. If you reached the date on the sticker first, then your oil has been sitting in the engine and is less effective then oil that's been used regularly, coating the engine. So, you should use whichever number you reach first.
Proper Mileage for an Oil Change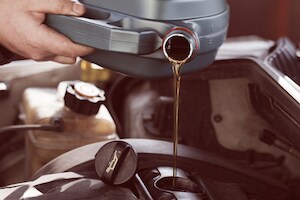 Although the sticker we spoke of above will have a specified mileage amount on it, it's only meant to be used as a guide. Your vehicle's performance specifications and your driving habits will greatly affect when you need to get an oil change. If you'd like to use the most accurate oil change interval, you should consult the owner's manual for the vehicle. Thanks to advances in technology and engineering, many vehicles can go several thousand miles before needing an oil change.
In summary, the oil change reminder sticker will likely have a shorter time span and lower mileage interval than what your owner's manual may suggest because the technician is erring on the side of caution and being conservative in their estimates. The fact of the matter is, more frequent oil changes have never damaged an engine. On the other hand, oil changes that are too infrequent will eventually cause problems.
Schedule an Oil Change Today
Do you remember your last oil change? If not, then it's probably time to schedule an appointment. Waiting too long between oil changes is not good for your engine. After all, it's the oil that's responsible for lubricating the moving parts and keeping everything running smoothly.
If you're in need of an oil change, let us know! Our team at Fred Beans Ford of Mechanicsburg is happy to help drivers from across the Mechanicsburg and Harrisburg areas care for their vehicles. We'll be sure to use the manufacturer-recommended oil in your engine so you enjoy the best performance from your vehicle. We'll also get the job done quickly, so you can get back behind the wheel. Contact us today to schedule your next oil change.
Additional Resources: