Drivers all throughout the Mechanicsburg and Harrisburg areas know their brakes are one of the most important components to their vehicle. However, do you know how to inspect or repair your brakes? Learning a little bit about your vehicle's brakes can help you spot an issue you'll need to have corrected, so they can function properly and you can effectively stop your vehicle.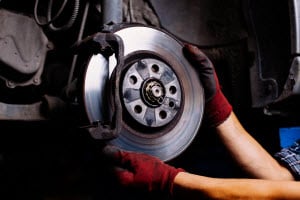 At Fred Beans Ford of Mechanicsburg, we're here to provide you with some helpful information on your braking system and on how we perform brake repairs. The next time you notice any signs of trouble from what you've read on this page, you can give us a call and we'll have our certified experts help by taking care of the problem.
How We Can Help Repair Your Braking System
Finding reliable brake repair is imperative when you need to have one of the most important components of your vehicle fixed. During your visit, the certified technicians in our service center will be sure to inspect your braking system thoroughly to not only figure out the problem, but to take notice of any other issues that could be on the horizon. When you have these issues taken care of early on, you can effectively prevent a major problem from occurring.
Our technicians use the latest diagnostic technology to locate any problems with your vehicle and its components. Once they come across the issue that's affecting your brakes, they'll determine the right course of action to help repair the issue with an effective and long-lasting solution.
Why You Should Have Your Brakes Repaired or Replaced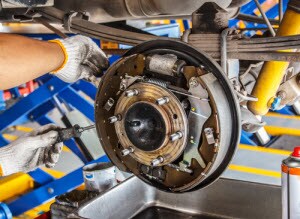 It's no secret that driving around your vehicle without functioning brakes is never a good idea. There are a variety of issues and problems that can occur with your brakes that will prevent them from functioning properly, which could put you and your vehicle in harm's way. That's why when you come here for service on your brakes, you're in great hands because our technicians will take the time to locate the route of the problem and correct it.
Your braking system is made up of several components like pads, rotors, lines, and even brake fluid. When you press on your brakes, fluid is sent through the lines, which help the brake pad squeeze against the rotor. This will help slow down the wheels and their rate of spinning. If there's an issue with the line, such as a leak, it can reduce your overall braking power. Your rotors can become warped, your brake pads can become worn, and you could be leaking braking fluid. There are a variety of factors that can affect your braking system, so having professionals take a look is highly recommended.
Are You Ready to Schedule Brake Service?
When you think there's an issue with your brakes, don't take any risks. Schedule service right away, so you can learn what the problem is and have it corrected. That way, you can continue making your way around with the ability to stop smoothly and efficiently. You can learn more about your braking system and the many issues that can occur by checking out some of our service articles. However, if you know your braking system needs some repairs, you can easily schedule service with us at Fred Beans Ford of Mechanicsburg. We're always committed to helping drivers throughout the Mechanicsburg and Harrisburg areas when there's an issue facing their vehicle.
Additional Resources: