When you're cruising through the streets of Mechanicsburg and Harrisburg, you deserve to be cruising in style. For the best combination of style, performance, and efficiency, you need to get a sedan. While they may seem plain, sedans are actually the most popular class of car on the market, and they come with a plethora of exciting features these days.
Finding the right sedan for your needs can be challenging with such a competitive market, so we hope to help you narrow down your search. The 2018 Ford Focus and the 2018 Ford Fusion are among the best in their class. Learn more about each of these stunning sedans and discover which would work best for you with our Ford Focus vs. Ford Fusion comparison.
Performance
Before you choose a sedan, you need to make sure it can perform well. Both of these sedans have capable engines, but they cater to different kind of drivers. When it comes to raw power, the Fusion is the way to go. Its base engine produces 175 horsepower, while the Focus offers only 160 horsepower. The Fusion can be upgraded further to a V6 model that puts out 325 horsepower. The Focus doesn't come close to that unless you want to look at the hatchback version.
The Fusion's power comes at a cost, though. While it earns an adequate EPA-estimated 32 mpg highway and 21 mpg city, the Ford Focus is far more efficient, offering an EPA-estimated 36 mpg highway and 26 mpg city, raising the combined fuel economy by an impressive 5 mpg. If you want to push it even further, the Focus has a 1-liter three-cylinder turbo engine available that earns an incredible EPA-estimated 42 mpg highway and 30 mpg city.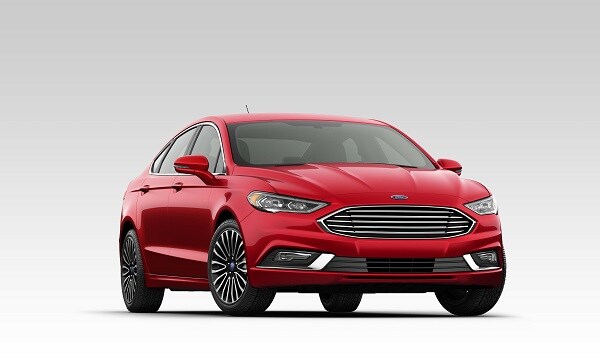 Interior
When it comes to interior space, the Ford Fusion has the advantage. The Focus still has adequate room for up to five people; they'll likely be more comfortable in the Fusion, though. Rear passengers in the Focus will be able to enjoy 0.2 more inches of headroom, but their legroom suffers quite a bit, only getting 33.2 inches. On the other hand, the Fusion's rear passengers can enjoy an incredible 38.3 inches.
Sometimes you need to fill up the trunk whether you're on a grocery run or driving to the airport. Whatever the case may be, trunk space will come in handy at some point. The Focus has a respectable 13.2 cubic feet of space, but the Fusion can offer an even greater 16 cubic feet.
Technology
If you're looking for the latest tech in your sedan, either of these will do. They both feature the remarkable SYNC 3 infotainment system complete with Apple CarPlay and Android Auto, allowing you to connect your smartphone to your car. With that connectivity, you can enjoy many of your favorite apps, like calling, messaging, music, and navigation.
Ford Focus vs. Ford Fusion
Our Ford Focus vs. Ford Fusion comparison makes it clear that finding the right sedan for your needs depends on what you want. For power and space, the Fusion is the way to go, but the Focus can offer better efficiency and maneuverability. You won't understand everything these two sedans can offer unless you experience them for yourself.
Fortunately, you can find both the 2018 Focus and the 2018 Fusion at Fred Beans Ford of Mechanicsburg. We invite all Mechanicsburg and Harrisburg drivers to take these two sedans for a spin. Our knowledgeable team can tell you everything you want to know about each. Make sure to schedule your test drive today!