For many drivers in the Mechanicsburg and Harrisburg areas, a reliable sedan is the best way to travel. In fact, the whole country as a whole seems to agree, considering that the sedan is the most popular class of car available. With such a competitive market, however, finding the right sedan for your needs can be difficult.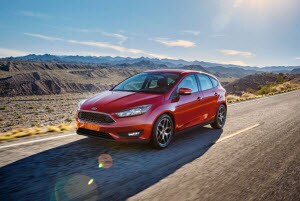 One of the best options available is the new 2018 Ford Focus. This brilliant sedan is one of the most versatile vehicles you'll find, whether you're looking for a comfy family car, a stylish personal cruiser or an effective racer on the track. Learn more about the 2018 Ford Focus and discover how its exciting new features can benefit you. Feel free to contact us with any questions.
Versatility
Arguably, the most impressive aspect of the Focus is its versatility. No matter what your desire is, there's probably a version that'll work for you. The baseline S version or one level higher SE model are good if you want a basic sedan for your everyday needs. If you need to get to work and back and take the occasional road trip, this version will see the job done. Move up to the Titanium version for a more luxurious experience.
The Focus also comes in hatchback versions. While the Focus hatchback features the S, SEL and Titanium models like the regular Focus, it also includes the ST and RS models. These models are made for high performance with improved suspension and styling. The high powered RS gets a surprising 350 horsepower that other sedans can't really compete with.
Efficiency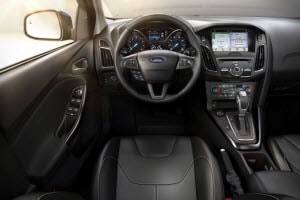 Sedans are known for their efficiency, and the Focus doesn't disappoint. There are quite a few different versions of the 2018 Focus, but all are efficient in their own way. The three cylinder version features an impressive EPA-estimated 31 mpg combined putting it ahead of other sedans. Even the powerful and sporty ST gets an EPA-estimated 25 mpg combined which is higher than most other vehicles with that kind of horsepower.
The Focus Electric offers an entirely different approach to efficiency. If you don't want to burn any gas at all, the Electric will get you where you need to go with over three times the efficiency of the most efficient gas model. The Focus Electric can get an EPA-estimated 105 mpg setting it among the top for electric cars and even higher if you only consider cars available in the States.
Technology
One of the best features of most modern Fords is the SYNC 3 infotainment system. This innovative system features an intuitive interface with virtually no learning curve. Operating like a smartphone, you'll be using the SYNC 3 to play music, make calls, plot destinations and more in no time. You can even connect your phone to your Focus using SYNC Connect and control certain aspects of your car remotely.
The Focus also features available driver assistance features. If you ever get anxiety when parking, the Focus' active park assist will do most of the work for you. It'll sense where the space is and take care of the maneuvering for you. All you need to do is control the speed. This same system can also detect objects behind you and in your blind spot.
Test Drive the 2018 Ford Focus
No matter which version you prefer, we're bound to have the right Focus for you. At Fred Beans Ford of Mechanicsburg, our mission is to provide you with a vehicle you can be happy with driving for years to come. Our friendly team stands ready to offer all the knowledge and help you'll need, so don't hesitate to experience the Focus for yourself. Visit us or call to schedule your test drive today!