As one of the most crucial components of your vehicle's system, your brakes help you do a lot-including keeping your family safe from an accident. That's why professional and trustworthy brake care is essential to a confident drive along the roads of Mechanicsburg, Harrisburg, and Carlisle.
So, to help you recognize when it's time to schedule a service appointment, we're here with this guide to the four signs that you need your brakes replaced, created by Fred Beans Ford of Mechanicsburg. Thanks to the useful tips on this list, you'll always know when to call your local mechanic for a quick inspection of your brakes.
1. Less Responsiveness
First and foremost, the most obvious sign that your vehicle could use a new set of brakes is if you experience any delays or lack of responsiveness once they're applied. This spongy feeling usually indicates that there's a leak in the brake line, whether that's an air or fluid leak. To see if this is the case for your vehicle, simply check under your car for a puddle of liquid.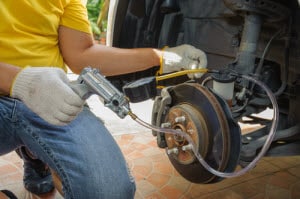 Otherwise, it's essential to take your car to a service center to have the brake lines inspected. The professionals there will be able to tell you more about the problem with your brakes. From there, our specialists will provide you with suggestions on the type of repair or replacement you need.
2. Brake Pulling
Have you ever noticed your automobile pull to the left or right when your foot is on the brakes? If so, there are a number of issues this symptom could indicate. For example, one common cause of brake pulling is a foreign item or substance inside the brake fluid, which results in uneven braking to both wheels.
On top of that, this warning sign could also point to an issue with your brake pads wearing unevenly, which can eventually harm other components of your braking system.
3. Vibrations
While feeling some movements from your car can be normal, you'll want to pay close attention to any vibrating sensations. Most vibrations are a result of warped rotors, which are usually caused by severe driving conditions, like stop-and-go traffic, towing, driving down steep slopes, and more.

That's why it's important to get this issue addressed once you start sensing any vibrations. That way, you'll avoid seeing further damage to your brakes or rotors.
4. Screeching & Grinding
Once your brake pads have completely depleted, you'll start hearing a grinding noise every time you press on the brakes. Without addressing this problem quickly, the friction from the calipers and disc rubbing together can wear out and scratch your rotors. Ultimately, this will result in rotor repair or replacement.
What's the best way to avoid this situation? Well, as soon as you hear any screeching, make sure to call a trusted service center right away. That way, you'll take care of the problem before it keeps you from enjoying your time on the road.
Schedule Your Brake Replacement Today!
At Fred Beans Ford of Mechanicsburg, we're dedicated to keeping you informed on how to preserve the health of your vehicle. So, the next time you notice one of these symptoms, consult this guide to the four signs you need your brakes replaced.
And when drivers like you in Mechanicsburg, Harrisburg, and Carlisle are ready to have a professional take a look at your brakes, don't hesitate to give us a call or stop by our service facility today!