There's nothing quite like driving a pickup truck whether you're going to work or taking the family on the ultimate camping trip. The capability and power all at your fingertips offer a unique driving experience you won't find anywhere else. If this is something you want to enjoy for yourself, you'll have to find the right kind of truck.
While the truck market isn't quite as competitive as the crossover or sedan markets, there's still plenty to choose from. While most have something special to offer, the new 2019 Ford F-150 tends to stand out, thanks to its multiple best-in-class features. That's why this truck has become so popular in the Mechanicsburg, Harrisburg, and Carlisle areas. Find out if the 2019 Ford F-150 is right for you in our handy review.
Engine Power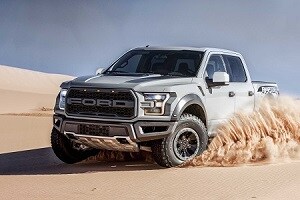 For the 2019 model year, Ford is making some bold new changes to the engine options for the F-150. Last year, the 450-horsepower twin turbo V6 in the Raptor trim was the most powerful engine available, yet not everyone wanted all the off-road features that came with that trim. For this model year, the Raptor's incredibly powerful engine will be available with the luxurious Limited trim, offering the best of both worlds.
Another change is something you don't see too often with light duty pickups. This year, the F-150 will have a diesel option. This is a 3.0L turbocharged diesel V6 engine that can offer an impressive 250 horsepower with 440 lb-ft of torque. As if that wasn't enough, this incredibly efficient engine can offer an EPA-estimated 30 MPG highway.
Capability
When it comes to towing capacity, the Ford F-150 retains its title as the best in its class. When properly configured, this truck can tow up to 13,200 pounds of cargo. Even without all the bells and whistles and powerful engines, it never offers less than a 5,000-pound towing capacity, so you know you always have reliable capability.
One of the primary reasons the F-150 is able to tow so much is its aluminum construction. A few years back, the F-150 underwent a radical change in which its body was built from a high-strength aluminum alloy rather than steel. While this material was just as strong as steel, it is significantly lighter. In fact, the new F-150s were 700 pounds lighter than their previous generation. Without that extra weight, more power can be dedicated to towing capacity.\
Check out this Ford F150 Comparison!
Technology
No modern truck would be complete without some of the latest automotive technology. Crossovers and sedans certainly don't have a monopoly on the latest infotainment systems. Inside the F-150, you can enjoy the SYNC® 3 system, one of the most intuitive and responsive operating systems on the market today. Controlling it is easy, as you're able to choose between steering wheel controls, the touchscreen controls, and voice-recognition software.
The integrated tech isn't just about entertainment, however, as this is the only truck in its class where you can enjoy the pro trailer backup assist system. With a simple turn of a knob, you can effectively turn any trailer you're towing, making it easier than ever before to back up when you have a trailer connected.
Take a Test Drive at Fred Beans Ford of Mechanicsburg
With its new diesel engine and best-in-class features, the 2019 Ford F-150 has secured its position as one of the best trucks available for drivers in the Mechanicsburg, Harrisburg, and Carlisle areas. Give it a test for yourself at Fred Beans Ford of Mechanicsburg. Our friendly team is happy to schedule a test drive for you. Contact us today!