Imagine, if you will, cruising the streets of Mechanicsburg or Harrisburg in the middle of summer in a top-brand sports car, with the windows down (in that sleek coupe) or the entire top down (in that supremely cool convertible).
If you're considering making those dreams a reality, you may have a 2018 Ford Mustang vs 2018 Chevy Camaro debate on your hands. We at Fred Beans Ford of Mechanicsburg want to make things easier on you with a car comparison that weighs these two highly competitive rides. Sit back as we rev up our engines-and enjoy the ride!
2018 Mustang vs 2018 Camaro: Under the Hood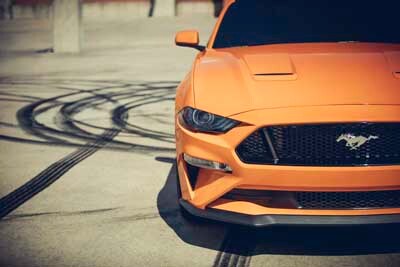 These are muscle cars we're talking about, and they have lots of power under the hood. The 2018 Mustang and 2018 Camaro each offer several engine options, including standard turbo-fours. The Mustang's turbo-four puts out 310 horsepower and 350 pound-feet of torque, while the Camaro's performs well, but gets just 275 horsepower and 295 pound-feet.
The Mustang and Camaro even out a bit when you jump to the available V-8 engines, where the Mustang's 460-horsepower output retains only a slight advantage over the Camaro's 455 horses. But, new for 2018, the Mustang now gets an available 10-speed automatic transmission for more control over performance, while the Camaro still tops out at an 8-speed.
Interior Features & Function
When it comes to comfort, U.S. News & World Report has heaped praise on the Ford Mustang and Chevrolet Camaro for their supportive seats that hold up even on long drives. Cloth-trimmed seating comes standard in these cars, but you can upgrade to leather upholstery as well as heated and cooled front seats, so you'll be comfortable in all seasons.
The Mustang is a (horse)shoe in when it comes to trunk room. The coupe version offers 13.5 cubic feet of cargo volume, while the convertible has 11.4 cubic feet. That'll hold multiple sets of golf clubs and luggage for your next trip. The Camaro coupe and convertible have 9.1 cubic feet and 7.3 cubic feet, respectively, which may be enough for a few grocery bags but little else.
Sporty Design & Style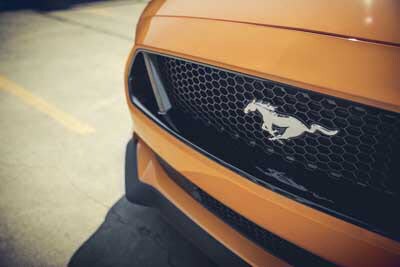 The 2018 Mustang and 2018 Camaro stand out for their distinctive designs, combining their long histories of head-turning design with modern touches. The Mustang's 2018 facelift lowers the front hood, freshens the front fascia and adds LED headlights. And the Camaro is as athletic as ever, sharing a muscular crouch and aggressive haunch with its Ford cousin.
These cars share stylish interiors, too, but Kelley Blue Book reports that materials quality in the Camaro fails to live up to the standard set by the Mustang. And according to U.S. News & World Report, the Camaro suffers from poor visibility due to its small windows, especially in its blind spots. By contrast, the Mustang earns praise for good visibility all around.
2018 Ford Mustang vs Chevy Camaro: The Verdict
For sports car enthusiasts, the Ford Mustang vs Chevy Camaro faceoff is a close one: these rides are the very definition of sporty sophistication behind the wheel. But, if you're looking for high performance, a spacious trunk and good visibility, the allure of the Mustang may be too much to deny.
If you live near Harrisburg or Mechanicsburg, schedule a test drive at Fred Beans Ford of Mechanicsburg. Get some hands-on experience behind the wheel and decide if you're ready to pony up for the powerful 2018 Mustang!