The 2018 Ford Explorer is a capable, rugged SUV that does double-duty as a well-rounded family vehicle. Whether you want an Explorer for work or play, however, you can count on its outstanding safety scores and cutting-edge safety technology to ensure you're always protected on any adventure.
Drivers in Mechanicsburg and Harrisburg can find out more about the 2018 Ford Explorer safety ratings, features and technology with this comprehensive safety review.
Ford Explorer Safety Ratings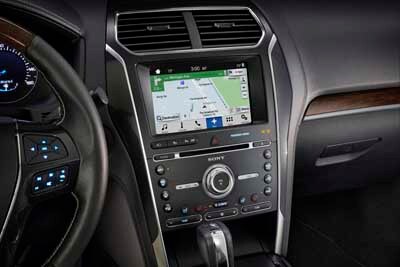 Modern vehicles are tested by the National Highway Safety Administration (NHTSA) and the Insurance Institute for Highway Safety (IIHS) for their ability to not only prevent a collision but also how well they protect the occupants during a collision. This rigorous testing rates vehicles on everything from the efficacy of their available safety technology to their structural integrity in a variety of crash-test scenarios for a comprehensive safety score.
The Ford Explorer scored exceptionally well for the NHTSA safety testing, earning a five-star overall score, which is the highest possible. It also did well for the IIHS testing, earning an overall score of "Good," which is also the highest possible score.
Whether you intend to fill the backseat with children or you want to explore the rugged off-road environment, the 2018 Explorer's outstanding safety scores provide peace-of-mind.
Ford Explorer Safety Features
All Ford Explorer models come with a rearview camera, a full set of airbags, anti-lock braking, and traction control, while advanced safety features like Forward Collision Warning and Automatic Emergency Braking are available as an upgrade for most models. The 2018 Explorer also has excellent outward visibility, and the available blind-spot monitors help you view any areas that are obscured. Rear-seat inflatable seat belts are available as well, which help to protect the occupants during a collision.
The 2018 Ford Explorer has an above-average 5,000-pound towing capacity, which makes it a desirable option in the SUV class, but it also offers some exceptional towing technology to enhance its towing safety. There's a "Curve Control" feature that pairs with its stability control system to use the throttle and brakes if it determines you're entering a turn at too high a speed, and the trailer-sway control technology works to minimize a swerving or swaying trailer to help with stability.
Adaptive Cruise Control is also available, which adjusts the cruising distance to ensure that you're not following too closely to the vehicle in front of you. This is a vital safety aid, but it's also incredibly convenient for long drives on a congested highway.
Test Drive the Ford Explorer at Fred Beans Ford of Mechanicsburg
Safety is incredibly important for an SUV, and the Explorer delivers on all fronts. Not only did it perform well in both NHTSA and IIHS safety tests, but it also comes with a variety of standard and available safety features for additional protection and peace-of-mind.
Drivers in Mechanicsburg and Harrisburg can find out more about the 2018 Ford Explorer safety by visiting Fred Beans Ford of Mechanicsburg. Call or stop by today to schedule your test drive!