Ford Dealer near Hershey PA | Fred Beans FordVisit our Ford Dealer near Hershey, PA, for a large selection of new Ford vehicles as well as used and certified pre-owned vehicles. Contact us today!
Hershey, PA, certainly is the sweetest place on Earth, and not just because it's where the delicious and delectable Hershey's chocolates were first created, but because the community has a sense of pride with their home. Of course, Hershey is also the home of Hersey Park, which brings almost 3.3 million visitors each year.
While chocolate seems to be the main ingredient to the town's overall happiness, the people certainly make it what it is. The convenient mix of local store fronts and shops, as well as scenic roads and abundant natural settings, make Hershey a great place to lay some roots. In order to do so, you'll need to have a reliable car that can help you navigate the varying terrain. Luckily, there's a Ford dealer near Hershey where you can find exactly what you're looking for. Contact us today to get started!
Browsing From Home
While it's convenient to have a Ford dealer near Hersey, it's even more convenient to know that you don't have to make the trip to our lot just to see what we have in stock. Actually, you don't even have to walk out your front door to begin your search-all you need to do is visit our website and check out our online inventory.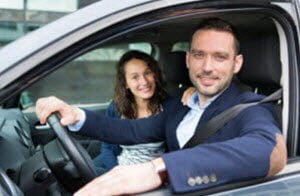 From your home, you'll be able to check out models like the sporty and stylish Ford Mustang, the spacious and accommodating Ford Expedition, or even the rough and tough Ford F-150, along with many other models to choose from.
Helping You Learn More
Now that you've found a Ford dealer near Hershey, your next step is to figure out which model you think would be a suitable choice for you, which is why we have research materials available. Using these free research tools, you'll be able to learn more so you can make the right decision.
We always recommend getting started with the review of the vehicle of your choice. You'll be able to learn a great deal about it based on its engine power, its interior space, and even some of its impressive features. Of course, you may be torn between the Ford and another make. That's why we have vehicle comparisons for you to check out so you can see how they differ, and which one offers you more.
Getting the Necessary Experience
Reading about a vehicle you're interested in can be very informative. Still, if you really want to know if the vehicle is right for you, you need to experience the vehicle for yourself. That's why we always encourage drivers from Hersey to come by and see their favorite vehicle in-person. You can learn even more about the vehicle you want by taking it out for a spin so you can get a sense of its performance, its style, and even its features. By the time you head back to our Ford dealership near Hershey, you'll know if you've found your next car.
The Premier Ford Dealership Near You
At Fred Beans Ford of Mechanicsburg, we're always happy to help drivers from Hershey find a vehicle that's right for them. Are you looking for your next car? Stop by and see us today!