Burgers are a great option because of their simplicity and their alluring flavor. However, there's nothing worse than a poorly cooked burger. To help you avoid such a travesty, we did the research and came up with our list of the best burgers in Lemoyne, PA, that you should check out the next time you get the hunger pangs and the only thing that'll satisfy them is a tasty burger.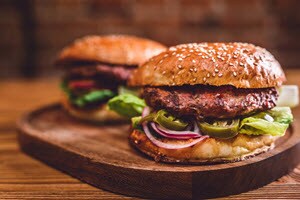 Brewhouse Grille
2050 State Road, Camp Hill, PA                                     Facebook
The only thing that's better than a burger is a burger and a beer. Luckily, Brewhouse Grille is very familiar with this winning combination and they aim to please with their extensive menu and their selection of 38 beers on tap. If you're not rushing to get back to work, make the experience memorable with some appetizers like loaded fries, bacon-wrapped poblanos, or even Smoked Gouda mac 'n cheese. When you're in the mood for a burger, you'll have some tough choices given the variety and options available to you. Of course, you can always come back and try the different options and alterations to really decide on the best burger.
The Burger to Get: The Meet Your Maker Burger, featuring braised short rib, bacon, grilled mushrooms, caramelized onion, a fried egg, and crumbled bleu cheese.
Flinchy's Restaurant & Train Wreck Deck
1833 Hummel Avenue, Camp Hill, PA                         Facebook
You may have heard of Flincy's because it's the home of the hot rock. This eatery allows patrons to cook their own meat on a volcanic rock to bring it to the temperature of their liking. Flinchy's has plenty of options in the realm of appetizers, like soft pretzel sticks with beer cheese, poutine, and even sliders. If you're on a burger mission, though, the minis won't do. You have a lot of options when it comes to the burgers, but first you have to decide between angus beef, wild boar, or a bison burger. No matter what type of meat you pick, you're certainly in for a treat.
The Burger to Get: Harley Burger, 8 oz. of certified angus beef, with chopped onions, seasoned with house spices, layered with bacon, and your choice of cheese.
Rookie's Craft Burger Bar
2283 Derry Street, Harrisburg, PA                                Facebook
Rookie's Craft Burger Bar in Harrisburg cuts right to the chase when it comes to picking out food you know you'll love. You may not know what to get right away, but that's fine-sit back and enjoy the experience while browsing menu items like the rib basket, cheese fries, or even the bucket of wings with 22 different sauces available, ranging from garlic parm, Thai bang, sweet and sour, or General Tso. When it's time to choose your burger, you'll certainly appreciate the variety and options.
The Burger to Get: Bronco Burger, ½ lb Angus Beef patty with Monterey Jack and Cheddar cheese, onion rings, bacon, and honey BBQ sauce.
Is your mouth watering yet? Why not try one of these spots for a delicious burger. You can even try them all so you can decide on the best burger near Lemoyne, PA.