Hungry and looking for a new restaurant to try? Don't feel like cooking tonight? Make it a special night out by visiting these fine establishments for a delicious meal.
Bricco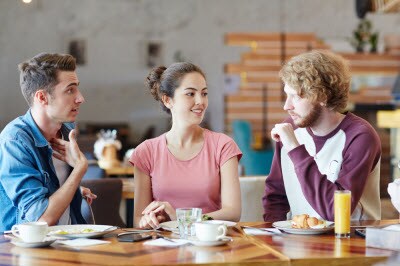 Located in downtown Harrisburg, this fine-dining restaurant will take you on a trip, with Mediterranean and Italian dishes that can make you feel like you're on vacation. Using the freshest produce available to create Tuscan-style dishes, chef Bill Collier and staff put together dishes reminiscent of those in France, Italy, Greece, and Spain.
Whether you're looking for a relaxing happy hour spot after work or a dinner out for a special occasion, Bricco strives to provide taste, quality and service. Sample delicious cheeses with the artisanal cheese platter, try out tasty short ribs or enjoy a delectable dessert.
Visit the Bricco website, where you can look at the full menu and sign up for the newsletter to receive coupons and learn about upcoming events.
Café Fresco Center City
Nestled in the heart of restaurant row, they've been serving up delicious plates and inspired drinks since 2005. By day, Café Fresco operates as an urban café-style spot. At night, the Asian-inspired dinner service is executed to perfection by executive chef Travis Mumma.
All meat and seafood is hand-cut in-house each day, and all dishes use the freshest seasonal ingredients available. Start your day here for breakfast, served Monday-Friday beginning at 6:30 a.m., enjoy a unique dinner, or try Saturday brunch. Interested in hosting a private event at Café Fresco? Get in touch with the team and they'll help bring your vision to life.
Check out their Facebook page to stay up to date with lunch features and to see special events.
Dodge City Steakhouse
Led by chef Doug Krick, Dodge City Steakhouse uses fresh USDA Angus Reserve beef, high-quality fresh seafood and natural ingredients to create special meals for each patron. Happy hour runs each weekday from 5 p.m. to 7 p.m. and is a great way to relax after a long day at work.
Menus change in accordance with the seasons, so you know you're always getting the freshest plates possible. But you can always find hand cut steaks including filet mignon, prime rib and ribeye along with delicious burgers and sides. Dodge City Steakhouse also offers different catering options for breakfast, lunch and dinner, based on your needs and budget.
See what this standout steakhouse is currently serving up by visiting their website today.
The 3 Best Restaurants in Harrisburg
Now that you know where to go for your next meal, don't wait around. Visit these fine Harrisburg restaurants today!