One of the best ways to give back to your community and make it an even better place to live is volunteering. Lucky for those living in Mechanicsburg, they don't have to look very far for awesome volunteer opportunities.
Below, you'll find more information about how you can get involved at three of the best organizations in the area. Keep reading to learn more about Children's Family Center, Global Awakening, and Pink Hands of Hope!
Children's Family Center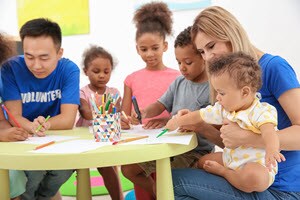 Children's Family Center was founded in 1978 with a mission to provide stimulating and enjoyable child care services to families in the area. Soon, that mission grew to include fostering intergenerational linkages between children and senior citizens, which helps both age groups see better perspective and create supportive friendships.
Senior citizens in the Mechanicsburg area are encouraged to volunteer as Grandbears. As a Grandbear, you'll serve as an important role model to the youth in our area while teaching them valuable lessons and spending quality time with them.
Global Awakening
Global Awakening is much more than ministry. This organization specializes in teaching and healing through the selfless act of giving to and helping those less fortunate. They accomplish this through a series of trainings, conferences, humanitarian aid, and ministry trips.
You can get involved by volunteering to partake in one of their international trips. On these trips, you'll immerse yourself in other cultures and make lasting bonds with people in other less fortunate parts of the world.
Pink Hands of Hope
Pink Hands of Hope was established as a non-profit organization focused on helping Central Pennsylvanian women through their fight against breast cancer. By offering free services and products-such as wigs, caps, clothing, shawls, and more-this organization helps build confidence in these women and gets them through their fight with a helping hand.
Volunteers with Pink Hands of Hope play an important role by working at the organization's thrift shop by helping to sort clothes and running the register. You can also help by volunteering for specific Pink Hands of Hope events or adopting a patient by pledging to raise money for their specific needs and medical bills.