Looking to do something a bit different this Valentine's Day? Continue to surprise that special someone with the gift of a short retreat to a nearby bed and breakfast! Get away from the kids, work, and your daily grind to enjoy each other's company in a more private, intimate setting.
These bed and breakfasts near Mechanicsburg are a great place to start. Book your stay soon before they fill up for the Valentine's holiday!
30 Timber Road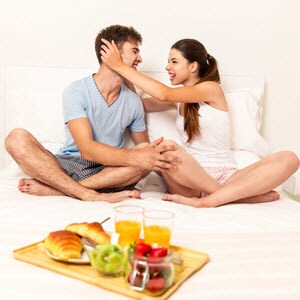 Styled after colonial Williamsburg and secluded in a small wooded area, 30 Timber Road is an escape from the hustle and bustle of everyday life. Whether you choose the Oak, Magnolia, or Walnut Room, you can luxuriate in a king-size bed or an oversized whirlpool tub. Fireplaces in several rooms add to the romantic ambiance.
Breakfast starts each day with fresh, local fruit, some of it coming straight from central PA's orchards. For your entrée, try their specialty: Old Fashion Oatmeal Pancakes, served with authentic Pennsylvania maple syrup. Sip some wine and sample cheese each afternoon from the screened porch, a great vantage point for spotting white-tailed deer!
Moore's Mountain Inn
Nestled in the foothills of the Appalachian Mountains, Moore's Mountain Inn features top-notch scenery and amenities. It was originally erected in 1798 as a brownstone tavern, and it retains much of that quaint style and charm, though in a restored form. Three available guest rooms each include a private bath and flat-screen TV.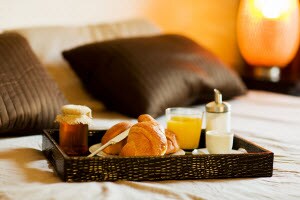 Enjoy a quiet, romantic walk down the two-mile-plus nature trail that starts at the inn itself and continues into a nearby community park. You can also amble along the scenic Yellow Breeches Creek, a river that passes by the inn.
Pheasant Field
Pheasant Field Bed and Breakfast is a restored brick farmhouse that sits at the heart of Cumberland Valley. There's a horse pasture, pond, and vegetable gardens on site, plus wandering free-range chickens. The Appalachian Trail is just half a mile away, the perfect excuse for a romantic hike away from it all.
There are eight rooms to choose from, each uniquely themed, and Pheasant Field's two-course breakfast lives up to its hype. Start off with a homemade scone or muffin, and then try the Egg Roulade or Toasted Coconut Buttermilk Waffles. They do their baking in the evening, so you may find yourself falling asleep to the heavenly aroma of freshly baked breads!
Make This Valentine's Day Different
This Valentine's Day, go for something a little out of the ordinary. There's sure to be a bed and breakfast on this list that will appeal to you and your other half, so check out their comfy accommodations and book your romantic getaway today!