The Bronco is one of the most iconic SUVs in vehicle history. As Ford's first-ever sport utility vehicle (SUV), it led the way in innovation, giving drivers a brand-new way to explore the outdoors with their families. Now, after nearly two decades of being off the assembly lines, the Ford Bronco is set to return, making its debut in late 2020.
While we await its highly anticipated return, the team at Fred Beans Ford of Mechanicsburg wants to get you excited about the 2021 Ford Bronco by looking at this vehicle throughout the years. Ford lovers in Mechanicsburg, Harrisburg, and Carlisle, Pennsylvania, read on for the history of the Ford Bronco and what we might be able to expect later this year.
Ford Bronco Beginnings: Paving the Way for Adventure
The Bronco first hit the scene in 1966. Ford product manager Donald Frey-whose earlier conceptions included another highly iconic set of wheels: the Mustang-wanted to give families a new kind of model, something that could tackle off-road situations. Ford then got to work, inspired by the power bucking broncos possess.
The first generation of the Bronco was built on a chassis that Ford created specifically for this model-and shared with no other vehicle. All Broncos were also equipped with 4-wheel drive to ensure the driver could take on challenging terrains with ease. This soon became a standard in this industry as others took inspiration from the Ford Bronco to create their own family SUVs.
The masses went crazy. Everybody loved Ford's new model that was marketed as an everyday vehicle with extra capabilities for outdoor recreation and ranching. Drivers then ventured to new places beyond the end of the road and never turned back.
Fifth-Generation Stunner
The Ford Bronco made its way through five generations of upgrades, ending its initial run in 1996. By then, advancements in the industry allowed the vehicle to flourish. It received a design change, though still sporting that well-known Bronco silhouette and a similar chassis that was based on Ford's F-Series.
The Bronco was now more aerodynamic, stronger, and boasted an intimidating appearance. Extra safety amenities, like crumple zones, 3-point seatbelts, and more, were also added, providing families with the peace of the mind they deserve.
However, the Ford Bronco saw its last year in the final months of 1996. While Ford introduced new SUVs, like the Expedition and the Explorer, drivers still craved the forever classic Bronco-and Ford listened.
2021 Ford Bronco: The True Thrill Seeker
The 2021 Ford Bronco is set to make its first appearance near the end of 2020. While limited information about this model has been released, we can speculate based on Ford's current lineup and the history of the Bronco's innovation.
For certain, we know the 2021 Bronco will be equipped with thrill-seeking power and a capability that allows you to venture anywhere. We can also expect to see a suite of progressive technologies in the cabin, like the famed Sync® infotainment system, as well as driver-assistive features, like Ford Co-Pilot™ 360.
Maybe we'll see some advanced off-roading tools? Perhaps its design will be reminiscent of the first Ford Bronco? Whatever Ford has in store, we know it's going to take us to new places and reignite our love for being behind the wheel.
Keep Up to Date on the 2021 Ford Bronco
If you're anything like the team at Fred Beans Ford of Mechanicsburg, you'll want to know all the details about the 2021 Bronco as they make themselves known. To do so, contact our dealership today! Our team will be happy to keep you updated on any 2021 Ford Bronco information until it's ready to hit the streets of Mechanicsburg, Harrisburg, and Carlisle, PA.  
BRONCO RIDES AGAIN
Way back in 1966, Ford introduced its original SUV and cut a trail to the great outdoors that would be followed by generations of Americans. And now, Bronco is coming back, strapped with thrilling power and go-anywhere capability, uniquely equipped to carry true adventure seekers deep into the wild and untamed places their souls long to be.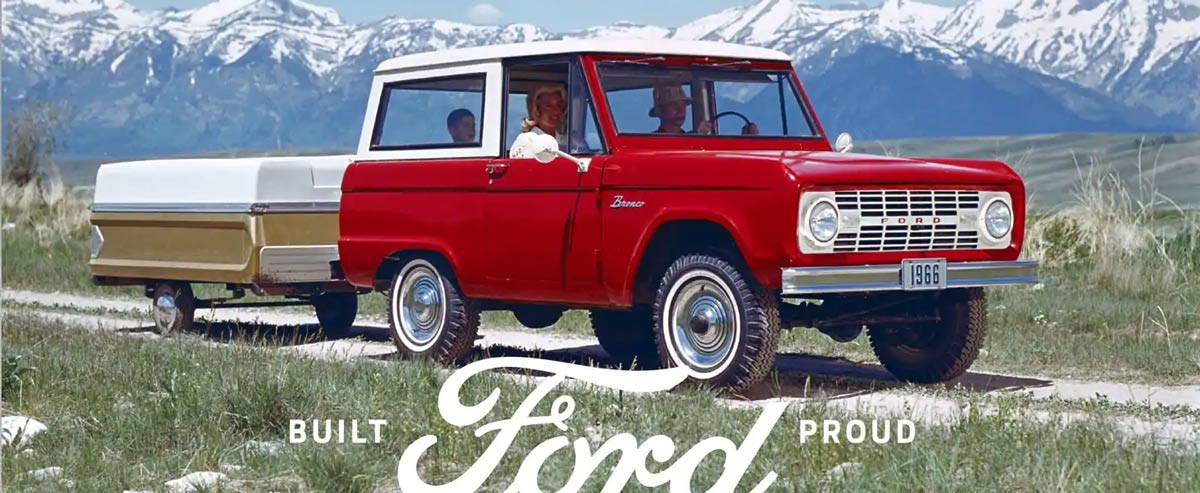 BRONCO HERITAGE GALLERY