If you're doing work in the Harrisburg and Mechanicsburg areas that require the use of a cargo van, picking the right one is extremely important. You need to make sure that whatever commercial van you get can get the job done.
One of the best options available is the new Ford Transit-250. This commercial van has all the power and capability you need for a variety of different jobs. Learn more about the 2018 Ford Transit-250 and discover if this versatile and reliable cargo van is the one best suited for your needs.
Versatility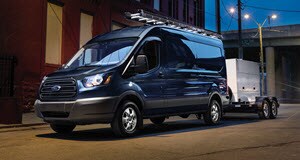 When it comes to cargo vans, they need to be able to adapt. Your jobs may not always be the same, so you need a van that can haul whatever kind of equipment you need. However, that doesn't mean you should automatically opt for the biggest van available. The Transit is available in three distinct roof sizes, so you can choose the one that fits your job best.
There's also a programmable battery guard you can take advantage of. This prevents your battery going dead while you're out and about. You can set times and profiles for when the battery should be used when the engine isn't running. As an added bonus, the guard also protects your battery from starter motor overload.
Capability
You'll need plenty of space in your cargo van and the Ford Transit-250 can provide. At most, it can offer you an incredible 246.7 cubic feet of cargo space. With a payload capacity of up to 4,650 pounds, you'll have more than enough space. If that still isn't enough, you can always throw some extra cargo in a trailer since the Ford Transit features a 7,500-pound towing capacity.
Like all other Ford vehicles, the Transit-250 was built Ford tough. Ford showed no mercy when putting the Transit to the test. Robot drivers were used to force years' worth of human daily driving into a couple months. That's millions of miles of abuse that the Transit survived. It was also subjected to temperature extremes from far below freezing to unbearable heat, and the Transit stood its ground.
Productivity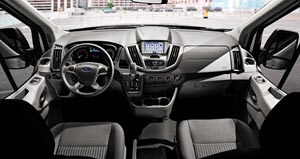 The only thing more important than working hard is working smart. When you have the Ford Transit on your side, you've already got something to work hard for you. If you have add-ons or accessories you need for your job like heavy-duty lights or other equipment, the Transit features easy to use high power relays, so you can keep everything under control and operational.
There's also an available power inverter that allows you to keep important electronic devices charged. If you use a laptop or tablet or just need to put a bit more charge into your smartphone, this handy feature can take care of it for you. You can also enjoy the SYNC 3 infotainment system. From here, you can make calls and plot destinations with ease.
Test Drive the 2018 Ford Transit-250
If you're looking for a trust cargo van in the Harrisburg and Mechanicsburg areas, head down to Fred Beans Ford of Mechanicsburg and give the 2018 Ford Transit-250 a try. With this impressive vehicle, you'll have all the capability, versatility and productivity you need to excel at your next job. Our friendly team is happy to show you all the extensive features the Ford Transit can offer. Visit us or fill out our online contact form to schedule your test drive today!