Purchasing a pre-owned automobile is a very fun thing to do. You're aware that you're going to save a lot of cash on a brand-new trim, you're aware that you'll enjoy the excitement of seeking an ideal match, and, above all, you already know that you're going to shortly be driving in a car that actually fits your budget.
Nevertheless, the purchase of a used vehicle can be an extremely complex process. There are various considerations, there are numerous choices to be made, and then there are many potential setbacks to avoid.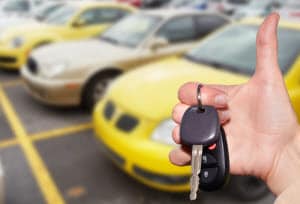 So, to make things a bit easier for you, our team at Fred Beans Ford of Mechanicsburg created this helpful pre-owned vehicle buying checklist. We hope all our customers in Mechanicsburg and Harrisburg, plus the neighboring neighborhoods, learn a lot from this article. Contact us for more information!
How to Purchase a Pre-Owned Car
Develop a quick list. Do your research, and make note of a couple of automobiles that appeal to your interest. Take advantage of tools similar to reviews, comparisons, specifications, images, and much more.
Plan a road test. The test drive is certainly the holy grail of the used vehicle purchasing process. It truly is that simple. The test drive lets you know if the things you saw on the history report translates to actual life. For that reason, spend the proper period of time and energy on this stage, because it's truly beneficial.
Plan an assessment. After you choose a specific model (following the test drive), get it checked by a pro. They'll look for all concealed concerns, so you don't end up being cheated.
Negotiate, negotiate, negotiate!
Look into prices. Assess the cost associated with the models from your list together with your allowance.
Forms. We won't lie: There's a lot of paperwork when it comes to buying a used automobile. Although, when you submit an application and get pre-approved for financing on our site, you'll save yourself loads of paperwork later on!
Take a look at the car's history report. Ask the car dealership for a pre-owned vehicle history report for every single trim that you're interested in. It may be from CARFAX® or even from a different reliable source.
Set up an allowance. Your allowance will be the foundation for the remainder of your used car purchasing quest. If your foundation isn't solid, then the rest of your structure will obviously fall apart.
Find a nearby used dealer. Our used dealer is a good start!
Contact Us to Schedule Your Test Drive!
Here at our Ford dealership in Mechanicsburg, PA, we make sure the pre-owned vehicle buying adventure is a joyous one, as opposed to a hard one. You can either call us on the phone or visit our lot now in order to learn more.
You may even try out some of the automobiles from our significant inventory of pre-owned cars. Just give us a call, and we'll help you get set up. It's that easy!